We'll create a unique combat zone for any event or at any location in Grand Rapids and the surrounding areas. We can provide mobile Archery Tag® games for youth groups, schools, families, bachelors and bachelorettes, family reunions, birthday parties, home school groups, office teams, and many other groups.
Archery Tag, it's more than a game-
Get the ultimate in fun at your next party or event with this game that's taking the world by storm. This is like a real life video game, where you dodge arrows to survive. Hearing the shooting sound of an arrow coming from behind is intense!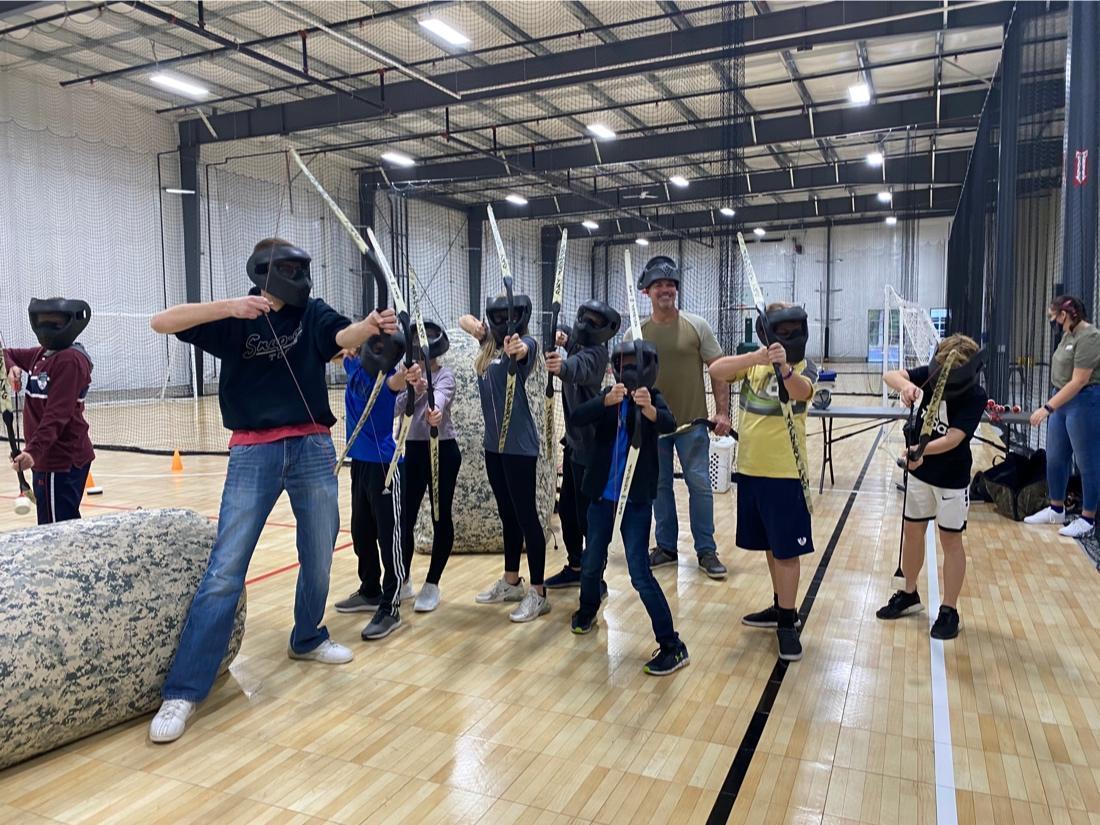 Archery Tag Birthday Parties
At BattleGR Tactical Games, we offer indoor and outdoor Archery Tag® at the location of your choice in the Grand Rapids area. Our standard packages include options for 60, 90, or 120 minutes of play. All events are private, and can even include food.
Make team bonding exciting with an archery tag event at our arena in Comstock Park, MI. Our corporate events include options for Team Bonding and Team Building. These archery tag events help teams relieve stress while finding ways to work better together.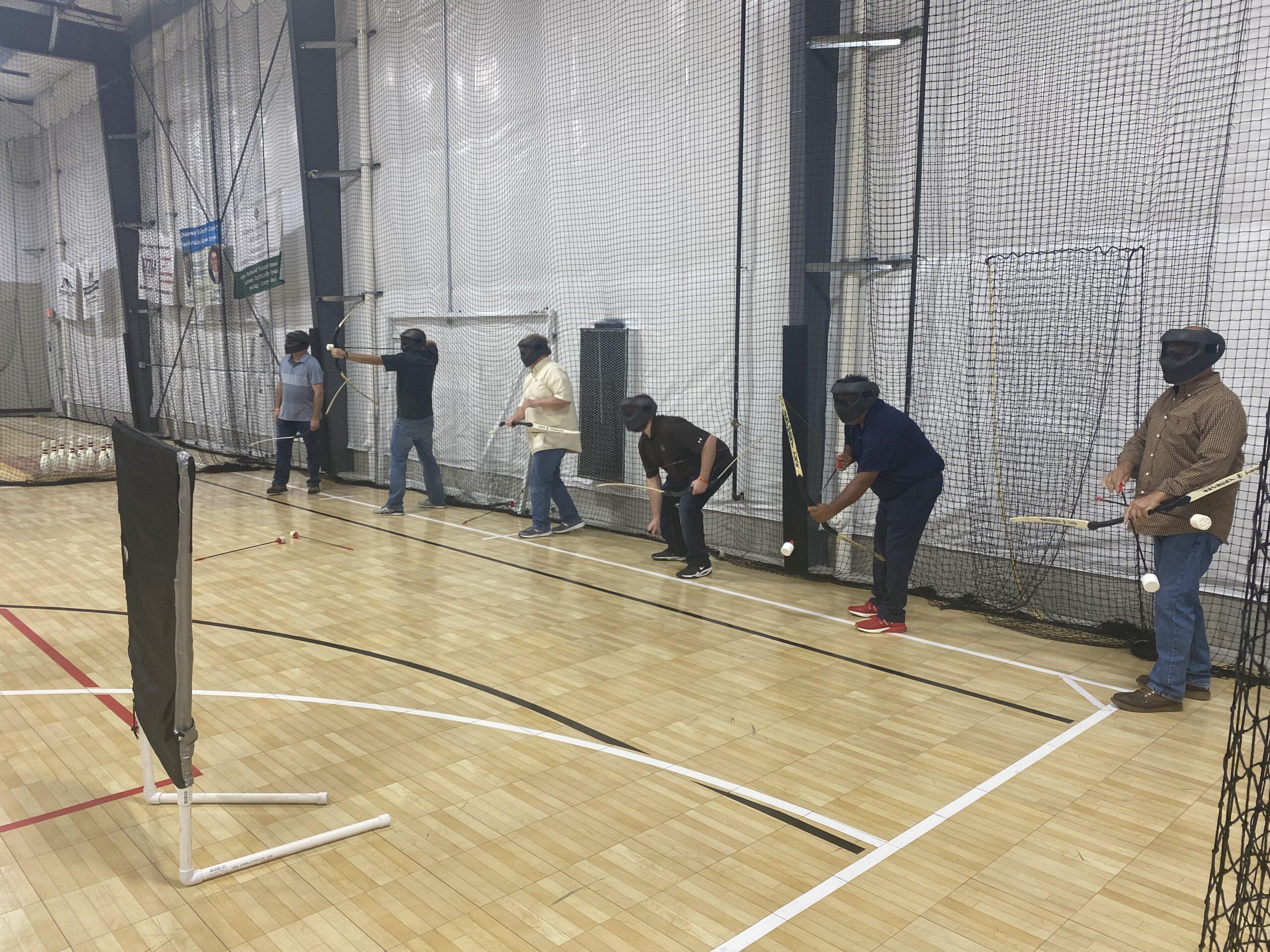 3 Reasons Archery Tag is a Solid Choice For Corporate Team Building
 Enhance communication and collaboration. Archery Tag is a team sport that requires good communication and collaboration to succeed. Teams must work together to execute their game plan. Encouraging and directing each other to success will build trust and foster teamwork. Archery Tag allows co-workers to break down barriers, get to know each other, and build a stronger connection.
 Promote physical and mental wellness. Playing Archery Tag is an enjoyable way to get active, burn some calories, and improve overall physical and mental health. Archery Tag provides a fun, challenging, and physical workout that is sure to increase blood flow and help reduce stress and tension in the workplace. The mental challenge of hitting targets and the thrill of competition help to keep players focused on the task at hand.
 Boost morale and encourages positive competition. Archery Tag is an exciting activity that can help improve morale and create a positive and upbeat atmosphere. Teams compete against each other in a friendly yet competitive environment, which can help to build camaraderie and encourage team spirit.
As you can see, Archery Tag is a winning choice for corporate team building. With its exciting, engaging, and challenging gameplay, Archery Tag provides a unique and enjoyable way for co-workers to bond, connect and build a stronger team.
What Is Arena Archery Tag?
Players are recommended to be age six or older (bring your parents to hang out in our lobby area or parents can get in on the game too). We aren't only for kids, as many of our players are adults.
What Clothing Should I Wear?
We recommend wearing comfortable clothing that allows free movement for high levels of activity. Shoes are required. During spring and summer, we recommend wearing a t-shirt and shorts. In the winter, we recommend wearing layers as you will get warm playing. If you are wearing boots, bring shoes to change into.
What Are Your Hours?
Summer Hours (Memorial Day – Labor Day):
M – THURS: By appt. only
FRI: 4PM – 10PM
SAT: 12PM – 11PM
SUN: By reservation for parties and events
Winter Hours:
M – WED: By appt. only
THURS & FRI: 5PM – 9PM
SAT: 12PM – 10PM
SUN: 1PM – 6PM
We may not be open if we don't have a reservation. We also open special for groups and company events. 
How Do I Book My Party Or Group Event?
Book online now to make a reservation for your play, party, or event. You can also call (616) 345-0698. We require a $100 non-refundable deposit to save your party date. We take most major credit cards and PayPal. If you are just coming in to play a few games, the deposit is $5 per player.
Can Kids With Special Needs Play?
While we cannot always accommodate all types of disabilities during regular game play, we offer barrier free play and other private play events for kids of all ages. For more information, contact us at (616) 345-0698.
ONE TIME VISIT
60 Min Session (50) Min Of Archery Tag 4-6 Different Games) $28

120 Min Session (100) Min Of Archery Tag $49

Call For Group Pricing

Groups Start At 10 Players
Other Things to do at BattleGR