Gel Blaster games are a fun way to get the kids moving and having a blast! We play multiple different games during your 1 hour session.
It's time to get your hands dirty and have some fun! Join in on the #gelblastergames and get ready for some fun!
We only do private parties at this time as we play in the same space as we play laser tag. If you have a group that wants to come in and play but not a birthday party please let us know. We would love to provide the fun!
Shoots environmentally-friendly Gellet gel pellets!.
Gel blasters are a type of toy blaster that shoots environmentally-friendly Gellet "gel" pellets!. The Gellet gel pellets are soft and squishy. They disintegrate on contact and immediately begin the dehydration process. That means no stains, no messes and no clean up. Gel blasters are a blast! They can shoot up to 100 feet although we normally play in a smaller closer range area.
They travel up to 170 fps, which mean they may sting a bit when you get hit. But, not as bad as paintball or airsoft. We suggest wearing long sleeves and pants. Always wear eye protection. We provide paintball masks for eye protection.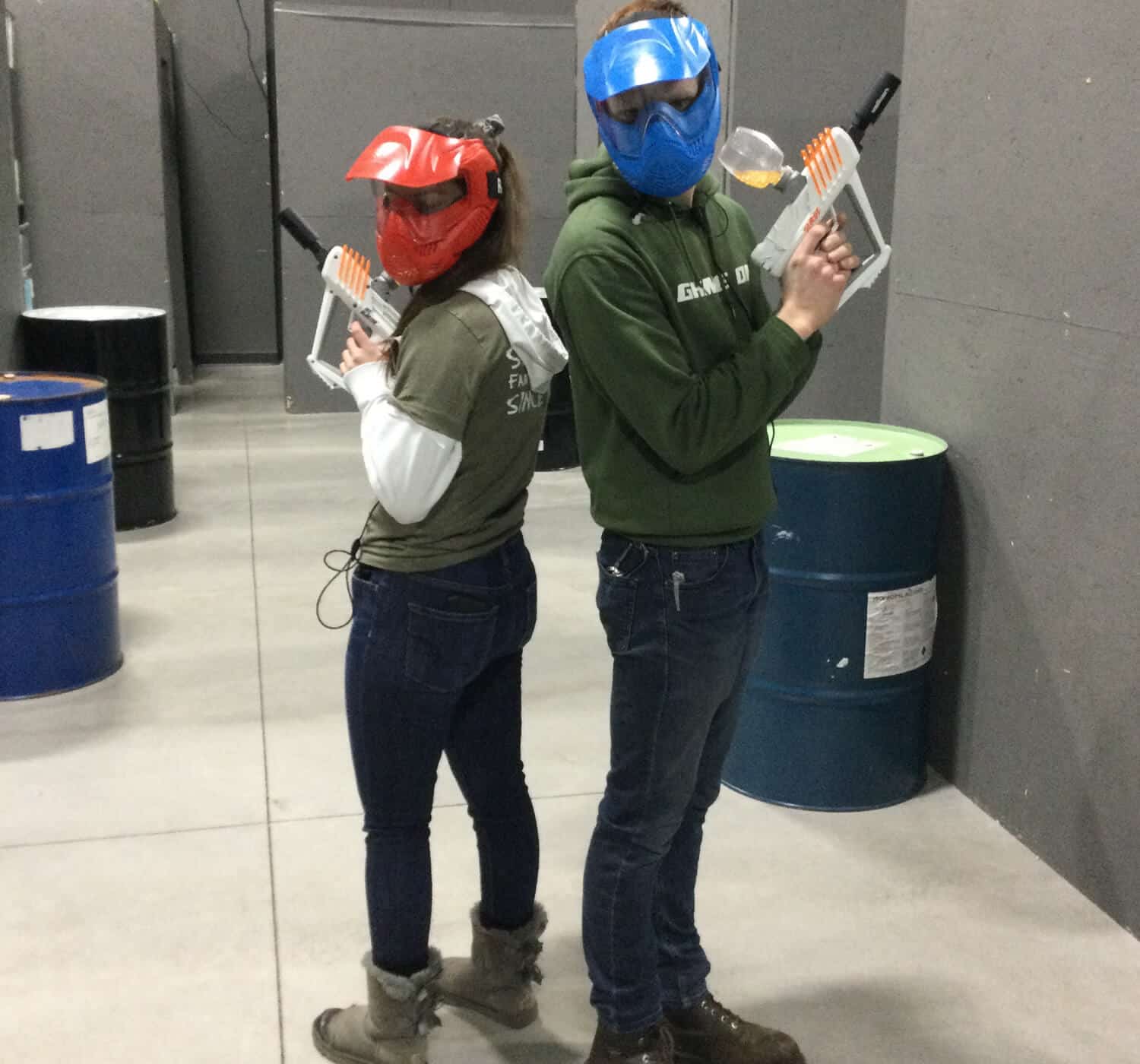 Private Gel Blaster
Birthday Pricing
What Is A Gel Blaster Game?
Gel Blasters are similar to nerf guns but they shoot gel balls. The impact from the Gel Blasters is far less than a paintball or airsoft BB. They balls do not learn residue behind. Players are recommended to be age six or older (bring your parents to hang out in our lobby area or parents can get in on the game too). We aren't only for kids, as many of our players are adults.
What Clothing Should I Wear?
We recommend wearing comfortable clothing that allows free movement for high levels of activity. Shoes are required. During spring and summer, we recommend wearing a t-shirt and shorts. In the winter, we recommend wearing layers as you will get warm playing. If you are wearing boots, bring shoes to change into.
What Are Your Hours?
Summer Hours (Memorial Day – Labor Day):
M – THURS: By appt. only
FRI: 4PM – 10PM
SAT: 12PM – 11PM
SUN: By reservation for parties and events
Winter Hours:
M – WED: By appt. only
THURS & FRI: 5PM – 9PM
SAT: 12PM – 10PM
SUN: 1PM – 6PM
We may not be open if we don't have a reservation. We also open special for groups and company events. 
How Do I Book My Party Or Group Event?
Book online now to make a reservation for your play, party, or event. You can also call (616) 345-0698. We require a $100 non-refundable deposit to save your party date. We take most major credit cards and PayPal. If you are just coming in to play a few games, the deposit is $5 per player.
Can Kids With Special Needs Play?
While we cannot always accommodate all types of disabilities during regular game play, we offer barrier free play and other private play events for kids of all ages. For more information, contact us at (616) 345-0698.
PRIVATE GEL BLASTER PARTY
60 Mins of Gel Blasters private session

Up To 8 Players*

45 Min Private Party Room

Two 16 in one topping Pizzas

Cupcakes

Unlimited One Flavor Or Fountain Pop

Place Settings (Plates, Cups, Napkins)

Ambassador of Fun (Party Host)

Tokens For Arcade

Dog Tags

Custom Draw String Bag For The Birthday Kid
Other Things to do at BATTLEGR
Please note: $100 nonrefundable deposit is requried to save your party date.

You may add extra players, more play time, goodie bags, and extra food in the check out process.

Parents – would you like to add fun for you and other adult party guests? Add on axe throwing and/or grab a drink at the GRub to socialize and have a catching up party
BattleGR is proud to offer many different types of play and party options. Our arena is located in Grand Rapids, MI. BattleGR offer exciting laser tag playing experiences, digital or gamified axe throwing experiences, archery tag, and more. These activities are perfect for birthday parties, bachelor parties, corporate team building events, and more. We service the West Michigan area including Rockford, Ada, Grand Haven, Grandville, and the Lakeshore. Although not required, we suggest you make a reservation to avoid waiting in lines. Book online now, or contact us at (616) 345-0698 for more information.We can also set up at your location of choice with our mobile gaming options.