Indoor Foam Dart – Nerf Wars
Birthday Party Pricing (4-6 years old)
Having a Nerf birthday party for your 4-6 year old in the BattleGR Arena is a fun,  memorable and, a stress-free event. Nerf parties include 60 minutes of play and 45 minutes in the party room.
We provide all the food (pizza, pop, and cupcakes), paper products, and party host to serve the food. When you book your stress-free Nerf birthday party with us your party host does all the work so you can enjoy the memories instead of scrambling around to make sure everything is done. Our party host will even write the gift list so you know who gave what gifts.
The is party room  is included in several of the birthday party packages. Have a blast with a nerf kid's birthday party in Grand Rapids or the surrounding areas.
We have a no outside food policy due to the health department regulations. If you have a food allergy please contact us so we can make special arrangements.  We also do not allow any silly string or a pinata.
*Private party options are available for an additional cost. Unless you book a private party or whole facility rental you may share games, lanes, and arena space with other people.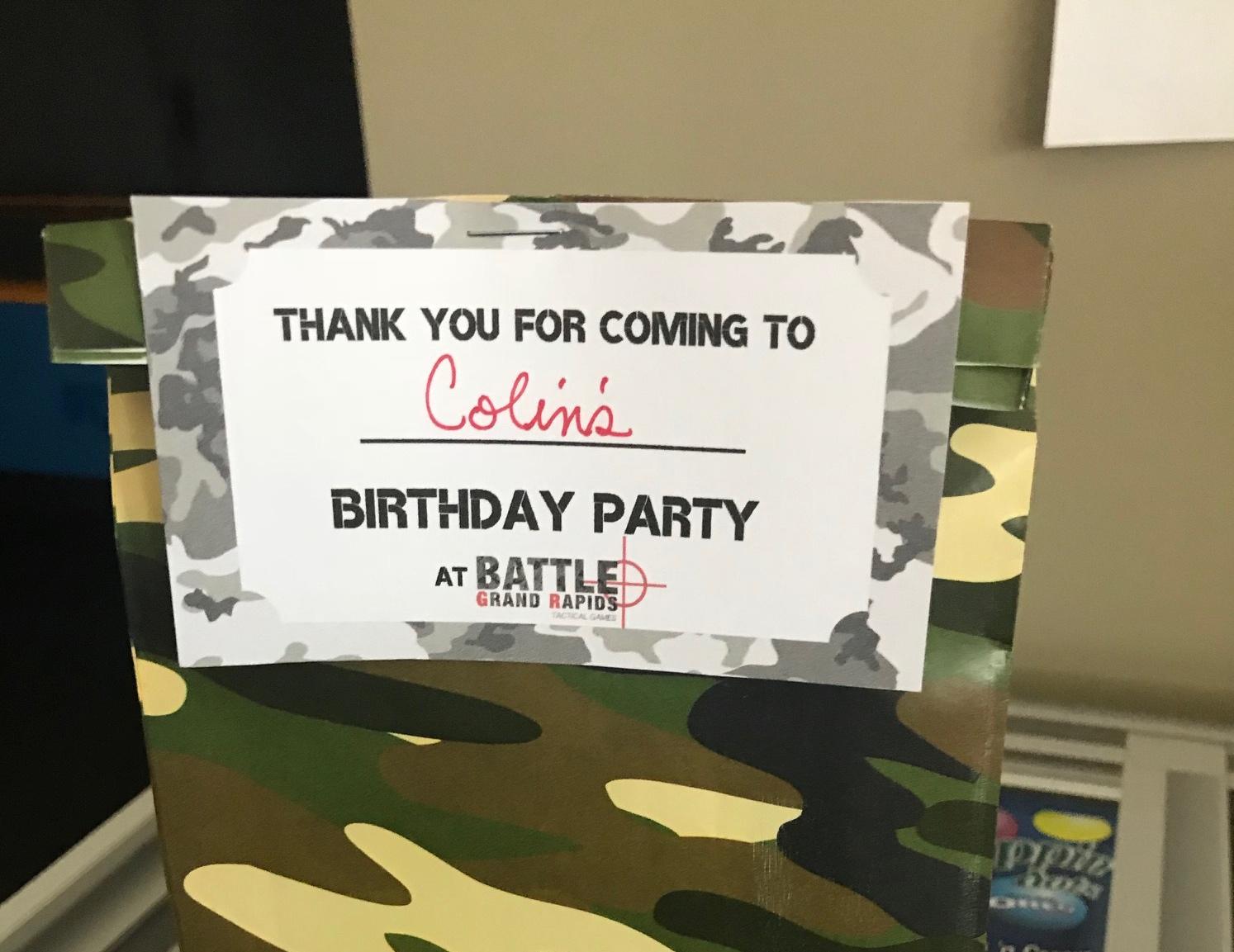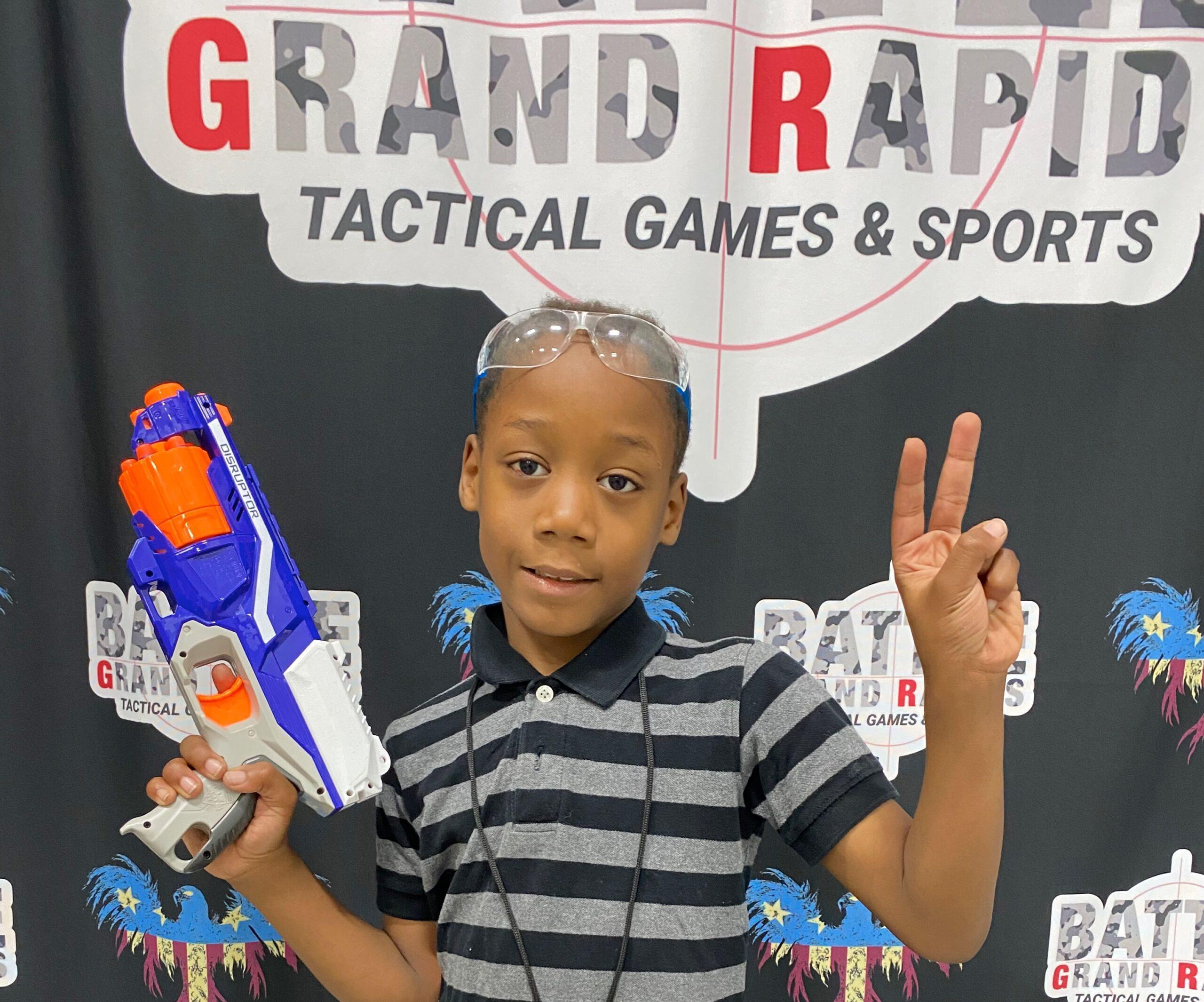 All Parties are semi-private. Your Nerf play might be with other players but your party room is private. If you are looking for a totally private party please contact us directly so we can help you book your party. 616.345.0698 or [email protected]
Indoor Foam Dart (Nerf)
Birthday Pricing
What Is A Nerf Party?
Players age four to six years old can play a more kid friendly tactical game (bring your parents to hang out in our lobby area or parents can get in on the game too). Party goers play using nerf guns in a smaller more contolled area. We have specific games they play geared towards their age group. We have adult options for guests during the party.
What Clothing Should I Wear?
We recommend wearing comfortable clothing that allows free movement for high levels of activity. Shoes are required. During spring and summer, we recommend wearing a t-shirt and shorts. In the winter, we recommend wearing layers as you will get warm playing. If you are wearing boots, bring shoes to change into.
What Are Your Hours?
Summer Hours (Memorial Day – Labor Day):
M – THURS: By appt. only
FRI: 4PM – 10PM
SAT: 12PM – 11PM
SUN: By reservation for parties and events
Winter Hours:
M – WED: By appt. only
THURS & FRI: 5PM – 9PM
SAT: 12PM – 10PM
SUN: 1PM – 6PM
We may not be open if we don't have a reservation. We also open special for groups and company events. 
How Do I Book My Party Or Group Event?
Book online now to make a reservation for your play, party, or event. You can also call (616) 345-0698. We require a $100 non-refundable deposit to save your party date. We take most major credit cards and PayPal. If you are just coming in to play a few games, the deposit is $5 per player.
Can Kids With Special Needs Play?
While we cannot always accommodate all types of disabilities during regular game play, we offer barrier free play and other private play events for kids of all ages. For more information, contact us at (616) 345-0698.
NERF PARTY PACKAGE(Ages 4-6)
60 Mins Of Nerf Games

Up To 8 Players*

45 Min Private Party Room

Two Cheese Pizzas

Cupcakes

Unlimited One Flavor Or Fountain Pop

Place Settings (Plates, Cups, Napkins)

Ambassador of Fun (Party Host)

Dog Tags

Custom Draw String Bag For The Birthday Kid
Other Things to do at BATTLEGR
Please note: $100 nonrefundable deposit is required to save your party date.

You may add extra players, more play time, goodie bags, and extra food in the check out process.

Parents – would you like to add fun for you and other adult party guests? Add on axe throwing and/or grab a drink at the GRub to socialize and have a catching up party.

The Arena is located in Comstock Park, MI. In addition to nerf parties, BattleGR offers an exciting laser tag playing experience, digital or gamified axe throwing experience, archery tag, and more. Looking for a unique location for birthday parties, bachelor parties, corporate team building events, and more for the West Michigan area including Rockford, Ada, Grand Haven, Grandville, and the Lakeshore. Although not required, we suggest you make a reservation to avoid waiting in lines. Book online now, or contact us at (616) 345-0698 for more information. We can also set up at your location of choice with our mobile gaming options.