Axe Throwing Grand Rapids – A Unique Axeperience
Axe Throwing is a sport in which the competitor throws an axe at a target, attempting to hit the bulls eye as near as possible and has a great time!
At BattleGR, we take safety very serious. We are the BEST, safe axe throwing in Grand Rapids and the surrounding areas. Our lanes have 15-foot dividers to keep you safe from throwers in the neighboring lanes. If there are no dividers or inferior dividers, you are not safe, period.
Our lanes have patent pending, no bounce back borders to provide the highest level of safety in axe throwing. How does a no bounce back border help protect you? These borders absorb the impact and allows the axe to fall straight to the ground; instead of bouncing off the wood.
Additionally, we use the end grain of the wood. How does end grain wood keep you safer? The end grain wood helps ensure the axe sticks to the target. We do not go to a big box store, buy 2 x 10 wood, and paint the target on it. You will find our targets are easier to get the axe to stick. Which makes the games more enjoyable for different arm strengths. The varying games and challenge levels make each visit customized and unique.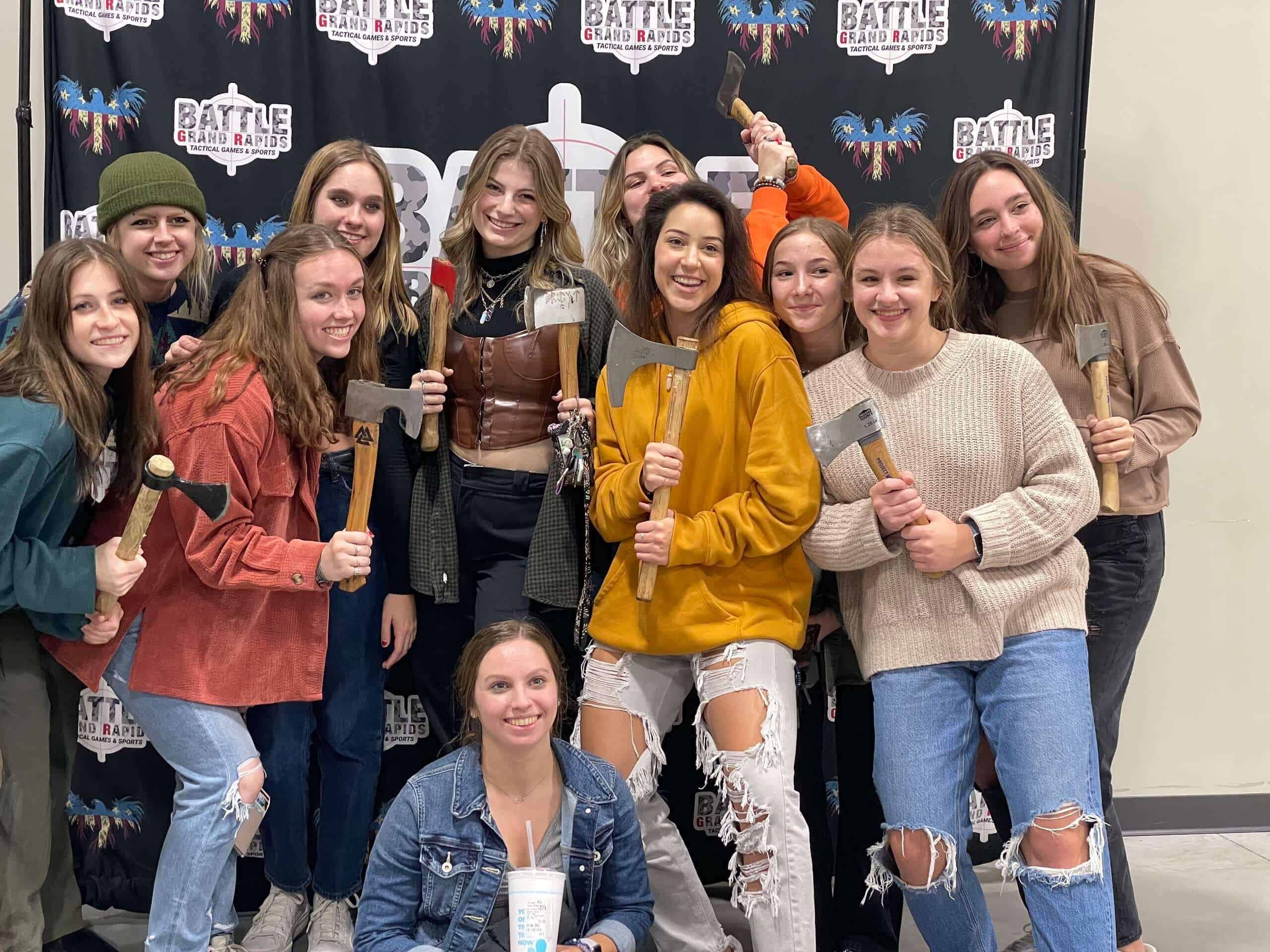 Axe throwing is an exciting, new, extreme sport. And, it's easy enough for you to enjoy without years of sports training. Play: After being assigned a lane, choosing your axe, and signing in (kind of like bowling), you will begin the game(s). Each player will throw an axe attempting to hit a bullseye on the target. Axe throwing at BattleGR is an interactive activity for family fun or some friendly competition.
Watch some our videos HERE!
SAFETY RULES-The Legal Stuff!
N

Must be 14 years old + to participate

N

Caution – axes are sharp!

N

You must wear flat, closed-toe shoes.

N

Do Not Throw Hard! Easy does it.

N

Throw only one axe at a time.

N

Stay in the safety area unless it's your turn to throw.

N

Do not pull axes out of targets. Wiggle the axe handle up and down to release. You can always ask a throwing coach for help.

N

Never hand a weapon to the next thrower. Put axes in the box, stars on the shelf.

N

No axes or stars are allowed outside of lanes.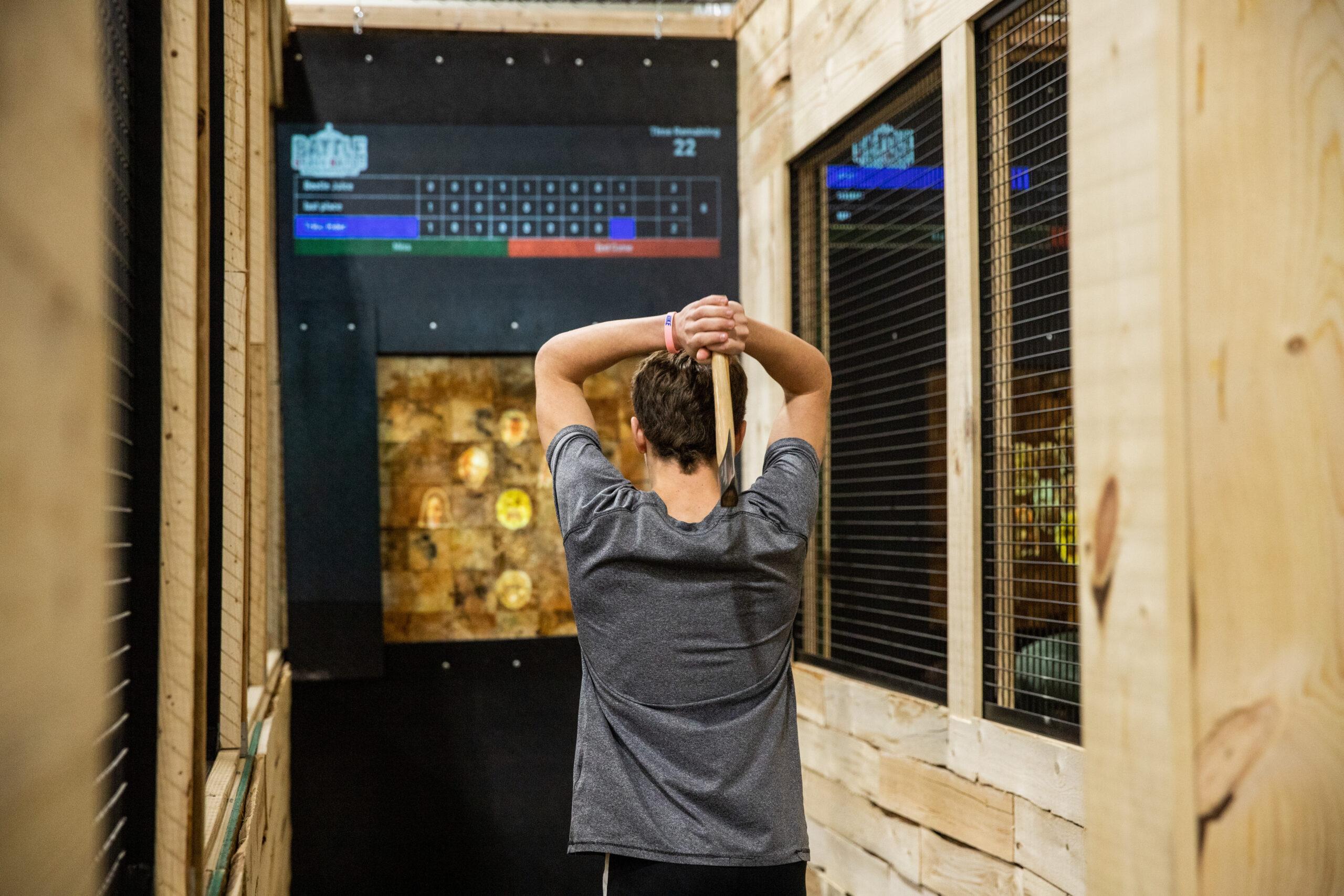 There are multiple axe throwing options when you book.  There is a shared lane, where you play with other people you may not know. Additionally, we have private lanes where you play with your party. Don't forget there are party packages and add on options available with the axe throwing. For parties for larger than 12 people or corporate events contact us at 616.345.0698 or email Jenny HERE.
Axe Throwing Grand Rapids-
Private Lane is $115 for up to 5 throwers. You can book up to 3 private lanes.
Walk-in lane is $28 per thrower and up to 6 throwers per lane.
We do private lane rentals all week long.
Need a memorable evening?
One-of-a-kind proposal?
Or celebrate a special day…
Axe throwing is a wonderful way to celebrate a special occasion. We would love to help take the stress out of planning for you. Our packages include food, cupcakes, and pop or we can customize your own package to fit your needs. Groups of all sizes can be accommodated!
NEW! Party package that includes:
1 hour of axe throwing
1 hour of laser tag
pizza
Pop
Make it a birthday party – with cupcakes and a birthday honoree t-shirt as well.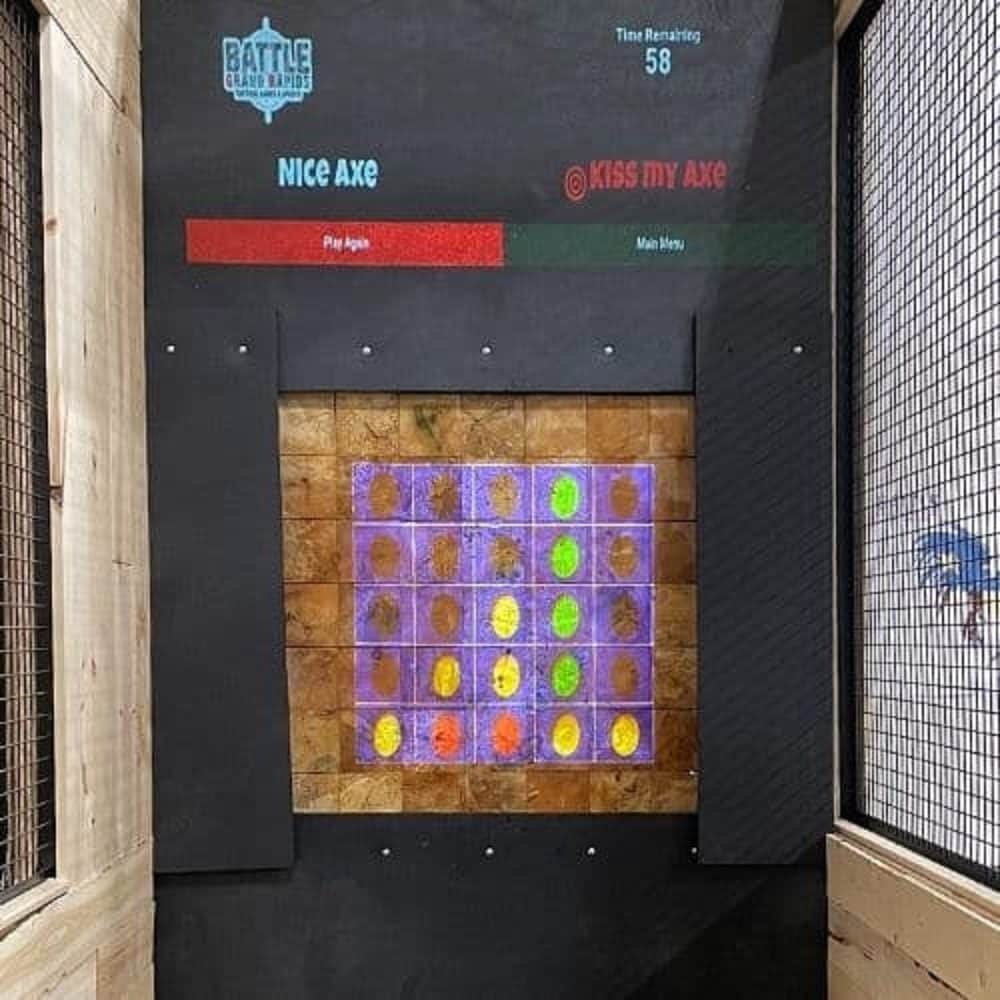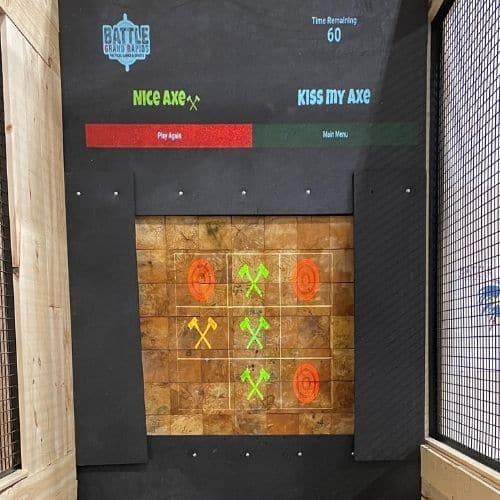 Corporate and Group Events
Are you looking for a unique way to have connect and have fun with co-workers? Axe Throwing at BattleGr is what you have been looking for! When you book your corporate party or team building event with us, we provide an axe coach (to help each member of your group learn the skill of throwing an axe) and how to play the different games we have.
Our full service facility provides customized options for groups 4-8 throwers or larger groups 50-200. For the larger groups we recommend adding another activity from our list:
Laser Tag
Archery Tag
Basketball
Volleyball
Futsal
Cornhole
And, many other yard games.
We can customize any package to fit your company's size and entertainment level.
If you are interested in a custom quote for your group please contact Jenny @ 616.345.0698 X4 or [email protected]